MIRADOR is a DFG-funded research project with Balluff GmbH as project partner. Its goal is to evaluate a novel, self-mixing radar method using specially designed radar sensors.
In the group of Prof. Kallfass a novel radar method was invented and in the meantime a patent application has been filed [KGS17]. The method is based on the mixing of two or more reflected signals by exploiting the self-mixing of a nonlinear component.
The new method differs from conventional radar methods (monostatic, bi-static, passive) in that the receiver is spatially and electrically completely independent of the transmitter. In contrast to conventional radar methods, there is no common time or frequency basis between the transmitter and receiver (see figure). The receiver can therefore be operated independently of the transmitter without there having to be a link between them, as is the case in all known radar methods.
The information of the absolute distance between target and radar sensor is lost in this method, but the method provides the relative distance between two objects, independent of the distance of the sensor to them. This opens up numerous applications, especially in the fields of production engineering, medical technology, material analysis and security.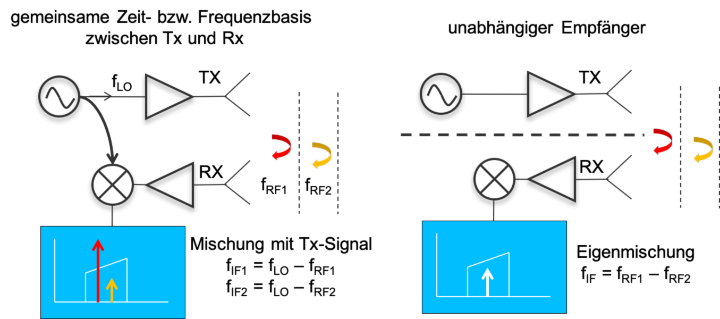 The aim of MIRADOR is to make the described radar method usable in several frequency ranges by means of specially developed radar sensors. Initially, the E-band (60-90 GHz) in the "sub-terahertz" range and the D-band (110-170 GHz) and H-band (around 260 GHz) in the "terahertz" range will be considered. This includes both new developments of MMIC as well as tie-ins to preliminary work from previous ILH projects.
High frequencies and bandwidths are of particular interest, since they allow high-resolution and equally compact radar systems and are a factor of three (compared to automotive radar) or four (compared to short-range radar around 60 GHz) above the current state of the art.